World War Two Casualties buried in Eastern Essex
Sadly most of the heroes whose deaths are recorded on the war memorials in Eastern Essex either have no graves or are buried elsewhere.
Likewise a few servicemen who died in this area are buried here although their names will be recorded on memorials in their home town.
Some were able to be buried near to their home and family.
The below lists some of the servicemen who have graves in this area
Bradwell on Sea Churchyard
| | |
| --- | --- |
| Name | William Marshall Poupore |
| Rank | Flying Officer |
| Service | Royal Canadian Air Force |
| Date of death | 6 October 1942 |
| Age | 20 |
| Home Town | British Columbia, Canada |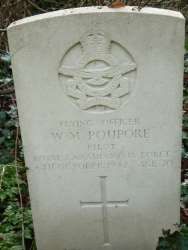 Burnham on Crouch Churchyard
| | |
| --- | --- |
| Name | Owen Patrick Faraday |
| Rank | Flight Lt |
| Service | 501 Sqd RAF VR |
| Date of death | 29 September 1944 |
| Age | - |
| Home Town | - |
| | |
| --- | --- |
| Name | George Harvey |
| Rank | Engineer |
| Service | Royal Navy Patrol Service |
| Date of death | 16 August 1943 |
| Age | 50 |
| Home Town | Burnham-on-Crouch |
| | |
| --- | --- |
| Name | Stanley Edwin Hyam |
| Rank | Sgt |
| Service | 233 Sqd RAF |
| Date of death | 8 March 1942 |
| Age | - |
| Home Town | Burnham on Crouch |
| | |
| --- | --- |
| Name | Leslie Seaborn Jenkins |
| Rank | Sgt |
| Service | RAF |
| Date of death | 26 November 1942 |
| Age | 33 |
| Home Town | Burnham on Crouch |
| | |
| --- | --- |
| Name | Wilfred John Sparkes |
| Rank | Private |
| Service | Pioneer Corps |
| Date of death | 24 January 1941 |
| Age | 22 |
| Home Town | Holland on Sea, Essex |
| | |
| --- | --- |
| Name | Leslie Thomas |
| Rank | Cpl |
| Service | 7th Bttl Essex Regiment |
| Date of death | - |
| Age | - |
| Home Town | Burnham on Crouch |
Mayland Churchyard
| | |
| --- | --- |
| Name | David Leonard Shrimpton |
| Rank | TPR |
| Service | 26th Armoured Brigade Royal Armour Corps |
| Date of death | 13 April 1941 |
| Age | 25 |
| Home Town | Mayland |
| | |
| --- | --- |
| Name | Thomas Ernest Slead |
| Rank | Royal Navy |
| Service | PO |
| Date of death | 22 February 1945 |
| Age | 51 |
| Home Town | Hackney |
| | |
| --- | --- |
| Name | Dulcie Joyce |
| Rank | Cpl |
| Service | WAAF |
| Date of death | 29 March 1944 |
| Age | 23 |
| Home Town | Mayland |
Purleigh Churchyard
| | |
| --- | --- |
| Name | Henry Alfred Porter |
| Rank | PO |
| Service | HMS Defiance - Royal Navy |
| Date of death | 7 January 1946 |
| Age | 34 |
| Home Town | - |
Southminster Churchyard
| | |
| --- | --- |
| Name | Harry Alfred Cardy |
| Rank | Cpl |
| Service | Military Police |
| Date of death | 25 December 1943 |
| Age | 40 |
| Home Town | Chelmsford, Essex |
| | |
| --- | --- |
| Name | Victor Ralph Smith |
| Rank | Sgt |
| Service | RAF |
| Date of death | 25 September 1942 |
| Age | 18 |
| Home Town | Muswell Hill |
Stow Maries Churchyard
| | |
| --- | --- |
| Name | Claude Alward Ridley DSO MC |
| Rank | Wing Comander |
| Service | RAF |
| Date of Death | 27 June 1942 |
| Age | B 13-11-1896 age 48 Years |
| Home Town | |
Tillingham Churchyard
| | |
| --- | --- |
| Name | H Sandford |
| Rank | Private |
| Service | 24th Training Reserve RN |
| Date of death | 15 July 1917 |
| Age | 18 yrs |
| Home Town | Tillingham |
Woodham Walter Churchyard
| | |
| --- | --- |
| Name | Eric Evelyn Bird |
| Rank | Sapper |
| Service | 108 Field Coy Royal Engineers |
| Date of death | 29 November 1943 |
| Age | 37 |
| Home Town | Woodham Walter |