Witchcraft
In medieval times many people believed that unexpected events such as a cow dying were the result of witches.
Criminal action began in 1521 when the Pope Leo X issued a papal bull enabling religious court to order the execution of people convicted of witchcraft.
This began a major campaign throughout Europe which to some extent was inflamed by the church.
In England King Henry V11 was concerned that the religious courts would order execution and passed the first Witchcraft Act in 1542. This brought him some problems with some allegations being made that his wife Anne Boleyn was a witch as she had 6 fingers and a mole on her neck . These deformities were considered one of the marks of a witch.
In 1547 the Witchcraft Act was repealed by King Edward V1 but on the accession of Elizabeth 1 another Witchcraft Act was passed in 1562.
The first trials of witches were recorded in Chelmsford in 1566 which saw Agnes Waterhouse hanged as a witch.
Before ascending the English Throne James 1 attended a trial at North Berwick of several women accused of trying to create a storm that would drown James 1 and his wife on a recent trip to Denmark.
He became so convinced about the threat that in 1597 he wrote a book called wrote the Daemonologie which condemned witchcraft..
There were already laws in place to outlaw witchcraft but in 1604 James 1 passed a new stronger statute which contained his statement that witches were loathe to confess without torture.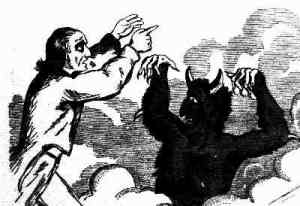 an old print of a male witch raising the devil
The notorious Matthew Hopkins ' The Witch-finder General' was born during this period and from 1644 launched his witch finding campaign in Essex and Suffolk, partly based of the book written by James 1.
Although Matthew Hopkins was based in the Essex Town of Manningtree which was 30 miles away from this area , his brother John Hopkins had a local connection being appointed at Presbyterian Minister of South Fambridge in 1645 at the height of witch finding campaign.
Witchcraft trials which only stopped when his act was repealed by King George II in 1736 although the last person convicted in England was in 1712 and the last execution for witchcraft in Scotland was in 1722.
Local stories of witchcraft abound - some are reproduced below
The ghostly bells of the River Crouch - The Hart Family of witches
The Hart family were the most notorious witches to reside in the area .
Many villages in this area have folklore relating to a Witch hart and most include the story of the stolen church bell from Latchingdon..
As a witch Mistress Hart suffered from an allergy to Church Bells. She was especially annoyed by the bells at Latchingdon Church. One night she removed the bells from the church tower and took them to Burnham where she attempted to take them to the opposite side of the river. Instead of a boat she used a barrel and used a feather for an oar. Not surprisingly neither she or the bells made the crossing. Legend has it that on stormy nights the bells can be hear tolling from under the River Crouch
Another Witch Hart lived at North Fambridge. Witch Hart and her husband were taken to the river where they were tied to a boat by a rope while the boat sailed along the river. Mr Hart sunk and nearly drowned but Witch Hart floated. This was taken to be a sign that Witch Hart was a witch as witches could not drown.
An alternative version of this legend has it that Witch Hart was taking the bell to Wallasea where another witch called Mother Redcap lived. The two witches planned to use the Bell as part of their witchcraft.
The last Hart witch is documented as living near Deadway Bridge, Latchingdon in the early 1900's. Rumour had it that legions of imps were hidden in her cottage. One night a man was riding past her cottage when he met a vast army of small animals with fiery red eyes. He lashed his horse and escaped although to his dying day he claimed that the creatures were Mistress Hart's imps on their way to cause mischief.
Witches and Warlocks
Fanny Bird was Creeksea's witch who was used to get her way from people scared of her magical spells. One day a man refused to move out of her way. She said to the man " You look out. I'll see you get home wetter than you started off today" . The man laughed and continued his way but a few minutes later he fell into a dyke and nearly drowned.
Isabel Whyte, a spinster of Purleigh appeared at Essex Quarter Sessions accused of killing two cows, a ram and 9 pigs belonging to Thomas Ward in March 1600. She was accused of bewitching the animals and causing them to die although she was acquitted of the charge.
John Smyth alias Salmon of Danbury also appeared before Essex Quarter Sessions where he was found guilty of bewitching 8 cows,6 calves, 3 pigs and 7 ewes belonging to Francis Simon of Stow Maries. He was however acquitted on a charge of bewitching to death Rose Larkin also of Stow Maries. The sentence is not recorded.
A retired Policeman called Buzzy and his friend Silly Bill lived in the Latchingdon area where they worked on the land. Buzzy was renowned for his magic and his ability to cause farm machinery to stop merely by looking at the machine ( this may well have been a crafty way to gain a break by the workmen rather than magic!) . His most famous magic was to look at a silent thrashing engine which suddenly burst into life.
Another wizard at Latchingdon used to travel around the area in a yellow carriage drawn by two large dogs.
Captain Harriott in his book 'Struggles through Life, London, 1815', tells the story of an old couple named Hart lived in a cottage near Fambridge Ferry. Young Harriott and his brother alternately patronised and teazed the old lady, and presently satisfied themselves by an experiment of their own that she was no witch. But the pair, long after the boy was gone, were wickedly persecuted by their neighbours, and according to Mr. Benton (History of Rochford Hundred) they were eventually "swum" in the presence of a great crowd of people. The husband was adjudged innocent, after being nearly drowned, but the wife was tied to a boat by a line, and consequently floated. She was ever afterwards regarded as a witch.
Sentences for those found guilty of Witchcraft
The common perception is that witches were sentences to death by burning. This is not totally true in England as most witches were actually hanged although in Scotland burning was the normal sentence. The reason for this was that in England witchcraft was treated as a crime rather than treason against the state or church. The one exception to this rule was a female who used witchcraft to kill her husband. In this case the law prescribed death by burning as the punishment as " she has risen up treasonably against her Lord and Master"
Many local people died as a result of allegations of witchcraft often for malicious or spiteful reasons.
Listed below are some local victims.
1566 ~ Mr.Hawes of Steeple
1566 ~ Mr. Richmond of Creeksea
1575 ~ Joan Litelberie of Bradwell
1577 ~ Joan Litelberie of Bradwell
1577 ~ Margery Sowman of Bradwell
1580 ~ Nicholas Johnson of Woodham Mortimer
1580 ~ Ralph Spacey of Southminster
1584 ~ Margaret Lyttelberie of Bradwell-on-sea
1584 ~ Joan Thorock of Burnham
1585 ~ Anne Bonner of Burnham
1585 ~ Agnes Thurrock of Burnham
1591 ~ Margaret Wiseman of Bradwell
1599 ~ Thomas Ward of Purleigh
1600 ~ Isabella Whyte of Purleigh
1615 ~ Grace Tabour of Stow Maries
1619 ~ William Walford of Cold Norton
1664 ~ John Webb of Woodham Mortimer
to read about the trial of Agnes and Joan Thurrock for witchcraft