WINDMILLS
Windmills work by harnessing the power of the wind into turning its sails which by a series of cogs tuned a grinding wheel to grind corn. They were a great advantage to inland communities without access to water in the required quantity to drive a watermill.
Farmers appreciated having a windmill in their locality as transport for corn was horse drawn or by Thames barge. In either case much time, effort and expense was incurred taking corn to a distant mill
Often the miller fulfilled several functions in the Parish with common second jobs as a farmer or a baker
The first recorded windmills in Essex were erected in 1202 but they were not used in this area until 1291 when a windmill at Bradwell on Sea was recorded.
By the 1600's they were in common use with windmills in operation throughout the area harnessing the wind from the sea on a very flat landscape.
To maximise the wind effect often a small mound was built and the windmill erected on top of the mound. A few of these mounds have survived the loss of the windmill.
In 1617 Matthew Driver was a miller at Woodham Walter.
Windmills seem to have suffered badly from wind and fire damage. In some cases several windmills have stood on the same site
Below is a listing of windmills that stood in this area with the name of a miller listed in the trade directory for 1863.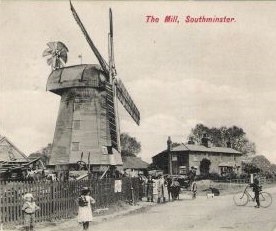 Parish

Comments

Miller in 1863

Althorne

North of Elm Farm

Not listed

Asheldham

Millfield - South west of Parish Church - Known in 1678 but nothing recorded after that date.

Not listed

Bradwell on Sea

1. Curry Mill -A series of mills stood on this site from 1300 .The last and best known mill was blown down in 1791 killing a miller called William Peak and injuring another.

2. East End Road - Built in 1791 near the Church after the disaster at Curry Mill. the mill was burnt down in 1900.

Thomas Jackson

Burnham on Crouch

1. Pannells Mill -Dates from 1784 was demolished around 1900.

Daniel Pannel

2. The Town Mill - Dates from 1796. became disused in 1896 and was destroyed around 1900.

Elisha Staggs

Dengie

Mill Marsh

Not listed

Hazeleigh

A post Mill which stood in Danbury Road. Allowed to get into a state of disrepair and was blown down in 1892

Thomas Clarke

Latchingdon

1. Bridgemarsh Island on the Brickfield site - Main use is believed to have been drainage

Not listed

2. Lawling Post Mill - West of Lawling Hall - At least two windmills stood on this site

Not listed

Mayland

1. Tithe

Not listed

2. Hither Mill Field - on Steeple boundary

Geo. Cardnell

Purleigh

1. Ravens Mill -On the East Side of Mil Lane at Cock Clarks. Built in 1778 for Roger Cook and demolished in 1929

Charles Raven

2. Mecklenburgh's Mill - North Road - Cock Clarks

Thomas Clarke

3. Purleigh Barns Farm

Not listed

Southminster

1. West Mill , Burnham Road - Built 1783 - Destroyed by fire after being struck by lightning in 1895

Jonathan Stacey Summers

2. East Mill , Cripplegate - built 1790 - Demolished in 1929

William Smythe

3. Ratsborough Farm- In use in 1678 - Destroyed by fire in 1781

Tillingham

Mill Hill

Woodham Mortimer

Two Dutch Mills- Bicknacre Road built 1759 . One mill disappears from records at about 1799 and the other was demolished in 1895.

John Dunningham

Woodham Walter

Alongside to the watermill at Blue Mill erected in the early 1800's. The windmill is not mentioned in use after 1866.

Joseph Riley