TUCKER BROWN BOATYARD
Anne Harper has written an excellent book called Boathouse which tells the story of Tucker Brown in words and photographs .
Tucker Brown was founded in 1906 by Andrew Bigmore, George Brown, Joe Cole and R J S (Stan ) Tucker bought land adjoining the sea wall. The firm then supplied moorings in the River and fitted out yachts.
Many of the best know local characters were connected with this boatyard.
After World War 1 Stan Tucker left the firm to found Crouch Engineering, which remained in the family being run today by Stanley's Grandson Jonathan Tucker.
In the 1930's Tucker Brown absorbed J King who were neighbouring boat builders and began boat building and design.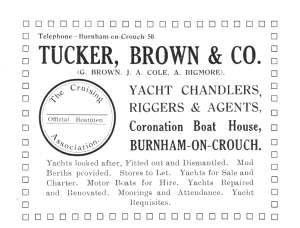 An advertisement from 1932
The business continued to expand taking in Coronations Hall in Coronation Road as well as small units in Coronation Road and Kings Road.
World War 2 brought another change with the original partners retiring and the business being taken over by Burnham's two favourite sons Sonny and Bob Cole.
Changing times to yachts meant that fibreglass hulls arrived to replace wood which meant that the traditional shipwrights and their expertise were no longer in demand.
In 1980 this culminated with the sale of Tucker Brown.
Many well known local names were connected with Tucker Brown.
SHIPWRIGHTS
Peter Barker

Harold 'Biggy' Bigmore

Tony ' Ernie' Everett

Anthony 'Chalky' Gardner

Dan Hooper

Oliver 'Olly' Lee

William'Bilky' Nicholls

Charles ' Charlie' Clement Osborne

Ronald Joyce Pipe

Owen ' Sludge' Pugh

Albert 'Bonk' Rice

Jack Staines

Gordon Yardley

WATERMEN

Sydney ' Ticker' Cable

Arthur 'Sonny' Cole

Bob Cole

Bas Cook

Charles ' Sugar' Cundy

John Harris

Jo Hazleton

David Saunders

Mrs Edna Torrance

Jack Tunbridge
I am grateful to Ann Harper for her splendid book which provided the inspiration and to Paddy Booth and Bob Cole for fascinating stories of old Burnham that have contributed to this and other pages