St Leonard's Church, Southminster
15th century parish church built from rubble and roman brick on a 12th century base. Abbot Vytoner from St Osyth Priory was responsible for most of the original building work.
Although some work was carried out in later years many areas of original 15th century work remains.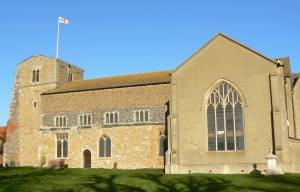 The most famous Rector was Dr Alexander Scott who was priest on HMS Victory at the time of Trafalgar and was responsible for the spiritual care of Nelson . Reverend Scott is responsible for bequeathing to the church several items form Victory including a chest, a table, a glass fronted cupboard, a looking glass and a iron box fireplace.
The font is 15th century.
Click here to visit a page listing the vicars of Southminster from 1332
Click here to read about the church bells at this church
Worley's - A dictionary of the County
In 1915 George Worley wrote about the Church in his Dictionary of the County
The church is a fine cruciform building, consisting of apsidal chancel, transepts, clerestoried nave, north porch and a lofty embattled west tower containing six bells.
Traces of Norman work appear in the plain south doorway and elsewhere; but there are clear signs of reconstruction in the walls, which are overlaid with stucco in the lower portion, above which there is a wide band of dressed flints, encompassing the series of three light( fifteenth century) quasi clerestory windows with some 5 ft of modern brickwork carried along the upper part.
A tablet within informs us that the church was enlarged in 1819 to provide for the accommodation of the lower orders, from which it would appear that the nave was then remodeled, though it is not known whether the aisles were taken down in the process or whether they had ever existed.
The tower is a well proportioned square structure in three stages, stuccoed up to the battlements, which are chequered flint and stone.
The porch is a fine piece of fifteenth century work, with an elaborately groined roof , and a chamber above it.
The octagonal font is of about the same age' and there are some sixteenth and seventeenth century brasses.
There was a restoration of the interior in 1892.
Registers start in 1702.