Church and National Schools in Eastern Essex
Until the Education Act of 1870 started the process of providing state schools for all children education was primarily restricted to children whose parents could afford the fees charged by private schools.
There were a few charitable schools but they were few and far between.
The main education available to children came from Sunday Schools that were operated by Church Members often in church property. The numbers of Sunday Schools and children attending rose from their beginnings in the late 1600's to nearly 2/3 of the child population of the UK by the mid 19th century.
Inspired by the growing strength of Sunday schools the National Society was founded on 16 October 1811 to provide a church day school in every parish to provide education to poor children in a similar manner to the successful Sunday schools.
The founding statement was "That the National Religion should be made the foundation of National Education, and should be the first and chief thing taught to the poor, according to the excellent Liturgy and Catechism provided by our Church."
The Society attracted funds from many sources including wealthy patrons and businessmen which allowed it to train teachers, buy books, slates etc and proper classrooms.
The existing church structure was used as a base for activity and boards formed in each area with responsibility for education.
Essex was divided into Eastern and Western Essex and then further sub divided into Deaconry areas.
Eastern Essex was contained in the Rochford Deaconry area.
Progress was amazing with Schools at Burnham on Crouch, Southminster and Steeple up and running within a year of the formation of the National Society with 177 children receiving a daily education for the first time and 104 children attending Sunday School.
These schools which came to be called National Schools for the first time provided children of our predominantly rural area to gain an education that would allow them to break out of the spiral of each generation following on to work in agriculture or poorly paid employment for people who could not read or write.
Attendance Officers made sure that children went to school and if necessary they prosecuted the parents. Normally an attendance order was made by the Court but if this was broken, fines or imprisonment would follow.
One such case was reported in the Essex Standard Newspaper in June 1880.
Thomas Grout, of Althorne, labourer, John Jackson of Dengie, labourer, George Stammers, of Bradwell, and Charles H. Amey, Southminster., were summoned by the Steeple and Southminster attendance officers for neglecting to send their children to school.
Each of the defendants said they had large families, and were glad to send the children to work to earn a trifle.
Attendance orders were made in each case, the Chairman remarking that the magistrates were there to administer the law, although the cases were hard.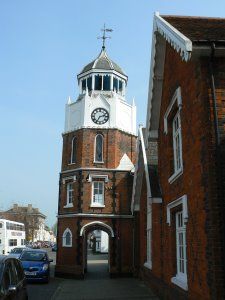 The Burnham National School building attached to the Clock Tower
The National School in Burnham on Crouch was based on an existing small school that was started in 1785 by the trustees of a local charity and extended in 1815 by public subscription and a grant from the National Society. The building survives as the red brick building in High Street to which the Clock Tower was later added.
The below table shows the number of children attending National Schools in Eastern Essex in 1813.
Althorne

Weekdays

Boys

Girls

Boys and Girls

not listed

not listed

2

Sunday School

Boys

Girls

Boys and Girls

not listed

not listed

not listed

Pupils attended Southminster School
Burnham on Crouch

Weekdays

Boys

Girls

Boys and Girls

40

37

77

Sunday School

Boys

Girls

Boys and Girls

not listed

not listed

90

It is noted that a girls school is very much required
Creeksea

Weekdays

Boys

Girls

Boys and Girls

not listed

not listed

2

Sunday School

Boys

Girls

Boys and Girls

not listed

not listed

not listed

pupils attend Southminster School
Southminster

Weekdays

Boys

Girls

Boys and Girls

not listed

not listed

90

Sunday School

Boys

Girls

Boys and Girls

not listed

not listed

14
Steeple

Weekdays

Boys

Girls

Boys and Girls

not listed

not listed

10

Sunday School

Boys

Girls

Boys and Girls

not listed

not listed

not listed
Changes by 1863
The initial Schools in 1812 were Burnham on Crouch, Southminster and Steeple although by 1863 schools had started in many of the other villages.
Burnham on Crouch
Records from 1863 record that the annual cost of the school was £145 per annum of which £90 was paid to the Headmaster £30 to the Schoolmistress and £25 to desks,slates, coals for the school and coals and blankets for the poor of the parish.
Southminster
The National School at Southminster opened in the early 1800's as one of the first public schools.
The school building was used until the mid 1800's when it was demolished to make way for a Baptist Chapel.
New buildings were then occupied on the site of the current school which used to be Firemen's houses to service the fire tender contained in the building now known as the Parish Rooms.
In 1841 the Elite Young Ladies private school opened in Burnham Road run by Harriet and Lottie Spells. This school was on the site of Victoria lodge.
Despite competition from a British school and a boarding school in Southminster by 1863 the number attending Southminster National School had changed to 70 boys and 50 girls. The teachers were Jno. and Miss Taylor.
In 1887 the children of Southminster School celebrated the jubilee by planting a horse chestnut sapling between the school and the Parish Rooms.
The tree is now a magnificent specimen having provided Southminster boys with conkers for over 100 years.
The modern school was completed in 1963 to cope with a surge in children caused by the arrival of construction workers and their families due to the building of Bradwell Power Station.
Steeple
At Steeple in 1863 the National school had grown to 70 children . The Schoolmistress was Miss M Sockett.
Bradwell on Sea
The Free school was founded in 1862 following a bequest from Dr Buckeridge of £100 per year.
In 1863 there were 120 pupils between 4 and 15 years of age.
All pupils were taught reading, writing and arithmetic although the girls were also taught needlework by the school mistress Miss Jane Bennett May.
Cold Norton
The National School was erected in 1842 with a house for the School Mistress who was Ms Anne Gosling.
Dengie
The National School was built in 1845
Latchingdon
National School with Mr and Mrs William Pipe School Master and School Mistress
Mayland
National School was built in 1859. Mrs and Mrs Samuel Russell are School Master and School Mistress
Mundon
No school although the parish was entitled to send three of four boys to Dr Plumes free school at Maldon each year.
Purleigh
The Free School was built following a bequest from Reverend Samuel Horsenden and his wife. The school was then built by his successor Reverend John Eveleigh.
In 1863 24 children attended the school . Mrs and Mrs James Fowler were school master and mistress.
Tillingham
A national school was erected in 1861 at a cost of £600
Mrs and Mrs Henry Brooke were School Master and Mistress.
Woodham Walter
The School was built in 1829 and is attended by 60 children.
The School Mistress was Mrs Elizabeth Burchell