Public Supply of Water
The Public Health Act, 1875 and the Public Health ( water) Act ,1878 imposed a duty on local authorities to ensure that a supply of wholesome water, sufficient for all domestic purposes is provided for every house.
Although this sounded good the reality was that the wording was subject to many interpretations particularly in relation to the quality of the water and what was a reasonable distance.
In 1897 there were a series of outbreaks of typhoid which appeared to be caused by drinking polluted water supplies.
This was compounded by several long hot dry summers and dry winters leading to water shortages.
As a result John Thresh was commissioned to provide a report of the water supply of the County of Essex which was published in 1901.
This report provided a good picture of water supplies over 100 years ago in Eastern Essex.
Water was provided to this area by the Maldon Union which in 1891 had a population of 23,498 people.
There were three main waterworks - Burnham on Crouch , Purleigh and Southminster.
Listed below are details of the Waterworks and an account of water supply in each village.
Waterworks
Burnham on Crouch
The waterworks here were established about 12 years ago by the Maldon Rural District Council.
The water is derived from the subsoil, gravel, partly from tube wells and partly from a sunk well or reservoir.
The population having somewhat increased ( 2746 in 1891 and 2900 in 1899) and the successive dry seasons having seriously lowered the ground water, the supply has failed rapidly, and during the autumn of last year there was a great scarcity.
The Urban District Council formed in 1898, in October, last approved a contract with a firm of well sinkers to bore a deep well, the work to be completed before May 1st 1901.
The improvement of the supply is therefore receiving their serious consideration.
Purleigh Waterworks
A scheme has just been completed for supplying 8 parishes with water. These parishes are Woodham Mortimer , Purleigh, Hazeleigh, Stow Maries, Cold Norton, North Fambridge, Latchingdon and Althorne.
The total population is only 2437 speread over an area of 29,000 acres.
There are 26 miles of mains.
The water is derived from a spring, which yields from 60,000 to 100,000 gallons per day of excellent water.
To protect this from the risk of pollution about 11 acres of ground was acquired.
The pumping station is near the springs and the plant consists of two vertical boilers, two horizontal duplex steam pumps, so arranged that either boiler will supply steam to either pump.
The duty of each pump is to deliver 6,000 gallons per hour through a rising main 1,200 yards into the surface reservoir on ground 110 feet above the pumping station.
Stand posts are fitted at the end of all the branches and along the route.
A large proportion of the cottages and farms are being directly connected with the mains at a cost of 2d per week.
The total cost was £13,000 with the estimated revenue from water rents and rates to be £408 per annum.
Southminster
The Maldon Rural District Council established a water works to supply this parish ( population 1450) in 1894.
Over a spring yielding some 30,000 gallons of water per day a covered tank holding 12,000 gallons has been constructed.
Close by a brick tower 70 feet high, supports a wrought iron tank holding 15000 gallons.
From the tank it flows through over two miles of mains to supply the village.
The total cost was slightly over £2,000.
During the last few months the underground tank has been enlarged and in clearing the ground for this purpose more water was obtained.
As there are other springs nearby I have suggested that the surplus water may be utilised for supplying the neighbouring parish of Tillingham where there is much need of a supply.
The water is soft and of excellent quality.
The spring is fed by a large patch of gravel extending from Asheldham to Tillingham and has been little affected by recent dry seasons.
Village water supply
Althorne ( Population 313)
Formerly badly supplied by wells and ponds.
Now supplied by the Purleigh waterworks.
Asheldham ( Population 167)
The village consists of a small group of cottages.
The water is obtained from a public roadside pump and is of excellent quality.
There are many scattered farms and houses depending on a brook or ponds for water.
Bradwell ( Population 999)
Water is fairly abundant and derived from the public and numerous private pumps.
The wells are shallow and nearly all show signs of pollution, some of them to a serious extent.
The public pump at the end of the village yields very good water.
Cold Norton ( Population 183)
Now supplied by the Purleigh waterworks.
Creeksea ( Population 127)
Water is obtained from a single public pump.
Dengie ( Population 279)
Water is obtained chiefly from shallow wells, some of which show signs of pollution.
There are a few bored wells in this parish.
Hazeleigh ( Population 111)
Now supplied by the Purleigh waterworks.
Latchingdon ( Population 464)
Now supplied by the Purleigh waterworks.
Mayland ( Population 203)
The is practically no village and no public water supply.
The only water available in most cases is rain collected from roofs and in ponds.
A few cottages obtain water from a pump at Althorne.
One or two farms have bored wells.
Mundon ( Population 263)
The village is practically dependant on a single private deep well.
The Parish Council refused to be included within the district supplied by the Purleigh waterworks.
North Fambridge ( Population 151)
Formerly supplied by a deep well which became contaminated by the invasion of sea water.
Now supplied by the Purleigh waterworks.
Purleigh ( Population 858)
The greater portion of this parish is supplied by the Purleigh Waterworks.
Some farms and isolated cottages on higher ground have not obtained this supply and have in some cases to go nearly a mile for water or use rain water.
Stow Maries ( Population 176)
Now supplied by the Purleigh waterworks.
Steeple ( Population 460)
The water supply is from two bored wells belonging to the District Council.
One of these appears to let in a little subsoil water.
Water is carted long distances ( two miles or more) from these wells.
St Lawrence ( Population 189)
Houses very scattered.
water is obtained from shallow wells or from ditches.
Tillingham ( Population 954)
Is supplied with water by three public pumps and a number of shallow wells.
The public pump yields a fairly good water but the supply has become very short in recent summers although the wells have been deepened.
A better supply is an urgent necessity.
Woodham Mortimer ( Population 298)
Now supplied by the Purleigh waterworks.
Woodham Walter ( Population 491)
Chiefly supplied by springs.
Brook and well water also used; some of these later are unsafe.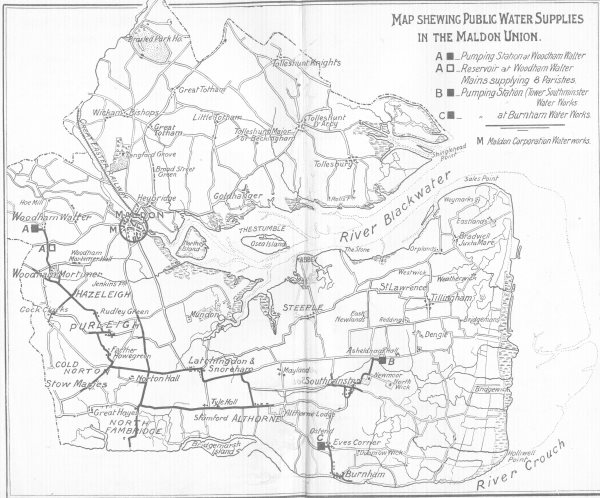 to visit a page with details and photographs of parish pumps in this area