Ploughing Matches
Ploughing matches began to be held in the early 1800's as part of the celebrations of the end of harvesting.
They proved the opportunity for both landowners and farm workers to socialise after an exhausting few weeks of harvesting and more importantly for the agricultural revolution they proved a great way to exchange ideas and display new techniques with new settings on ploughs.
Of course the competition also provided the change for ploughmen to boast that they were the best and Landowners to compete against each other.
Local matches usually took place in October on one of the large landowners property and was followed by dinner for the landowners and an evening in the local inn for the ploughmen.
As the 1900's saw the replacement of horses by tractors in the 1900's so ploughing matches moved with the times to introduce tractor ploughing matches although the requirements were very similar.
A Modern ploughing match often has both horses and tractor events.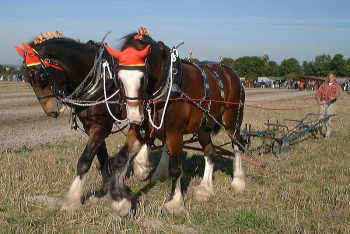 Photo taken ion 2005 courtesy of Malcolm Morley
Judging
Judging was usually carried out by prominent farmers who either came from outside the immediate area or those who had no entrants to the competition.
There were usually several classes to cover previous champions , adults who had not previously won and boys.
Occasionally there were fun classes such as best turned out horses.
Judges looked for
The Crown - A small furrow should be cut on the first run, a similar furrow should be cut on the return and subsequent furrows should be of similar size. On arable or grassland a double split could be used.
Firmness - Judged tested firmness by standing on the furrow. If it subsided the furrow was considered poor.
Relationship to other furrows- each furrow should be of equal width and depth throughout the run and should be close to and in line with the neighbouring furrows.
Straightness - All furrows should be straight
Ends of Rows - Should be uniform and the lowering and raising of the plough should not have caused any untidy sections
Completion - The final furrow should be level with the original crown. It should be more shallow than the rest and should not contain any loose soil.
To view a page on the results of the Purleigh and District ploughing matches held in Eastern Essex in the 1800's click here.
To view a page on the results of the Dengie 100 Agricultural Show ploughing matches held at Southminster in the 1800's click here.