Members of the Peculiar People lived their lives within a strict interpretation of the gospel.
The congregation did a lot of good in their communities and normally would not break the law but their valued their beliefs as much higher than the law and this brought them into conflict with the law.
This conflict came in two main areas- Treatment of illness and service in the armed forces
Conscientious objectors in World War One
A belief that human life was scared was a central feature of the Peculiar Peoples belief.
Whilst a few young members may have joined the armed services this became a real issue in 1916 when conscription was introduced.
There was a special meting of the Church Council who affirmed their views that human life is sacred and so war and bloodshed was the work of Satan. The Council did not forbid followers from joining up but made it clear that they would support any member who became conscientious objectors.
Some members took employment in agriculture or other exempted occupation whilst some joined the armed services in areas such as medics where they would not be called upon to take lives.
Some members refused to join the armed services as their belief was that to have any part in the war would be unchristian and many were convicted serving sentences of hard labour in prisons.
At a time of great patriotism the actions of these conscientious objectors caused negative feelings against the Peculiar People movement.
The leaders of the movement appealed against their conscription up to Kings Bench Division on that basis that Ministers of many religions were exempt.
The court dismissed his although accepting the movement as a religion they felt that Ministers were self appointed with no training and as such did not qualify for the exemption. Most Elders of conscription age then became conscientious objectors.
Divine Healing and refusal to allow medical treatment
The Peculiar People was so devout that they believed that some elders had the power of healing.
This power occurred by prayer , anointing with oil and the laying of hands on the patient by the Elder.
The patient would then be healed by God acting through the hands of the Elder.
Members were so strong in this belief that they felt no need to visit a Doctor or allow their children to see a Doctor as they felt this would question their belief in God
If a member died, this was felt to be part of the wisdom of God and that their loved on would be happy in heaven.
This belief quickly brought them into conflict with the authorities especially where a child died or became seriously ill with an illness that could have been treated by a Doctor.
Some Specific Cases
Emily Watts in 1876
Other local cases included Emily Watts who was born in 1875 to Frederick and Louisa Watts.
The family lived in Tillingham where Frederick was an agricultural labourer and a member of the Peculiar Peoples Church.
When aged 18 months Emily contracted Whooping Cough.
The family prayed for Emily to get better but did not call a Doctor.
Frederick was arrested and appeared at Essex Lent Assize in March 1876.
After trial he was found not guilty probably as the prosecution could not prove that a Doctor would have prevented her death.
Lavinia Jane Dedman in 1884
Lavinia Dedman was born in 1883 to William and Charlotte Dedman.
William was a farm servant who lived in The Street, Steeple and was a member of the Peculiar Peoples Church in the village.
On 4 June 1884 baby Lavinia became ill.
A fellow member of the Peculiar Peoples Church called Mrs Everitt called and the baby was given some, port, brandy and arrowroot.
This treatment failed to help and an elder of the church was called in.
The Elder prayed for Lavinia and then anointed her with oil and layed his hands on her.
Sadly Lavinia died on 12 June 1884.
As no medical aid had been sought an investigation began which led to William Dedman appearing at Essex Assize Court on 2 August 1884.
William Dedman pleaded not guilty and led his own defence.
The local Doctor testified that the child had died from an inflammation of the child's lung. Had medical treatment been sought it was his opinion that the child's life could have been saved or at least prolonged.
William Dedman said that he believed that the Lord would answer the prayer of the Elder.
The defence made play of the fact that the Elder was a carpenter by trade.
William Dedman then said that he knew people who had been cured by the laying of hands by the Elders and that of his 13 children 3 had died at the hands of a medical Doctor.
The jury returned guilty verdict but recommended mercy as they believed that Dedman had acted from conscience.
Dedman was sentenced to one month imprisonment without hard labour.
The Judge said that he hoped that the sentence would stop other people from continuing in their folly.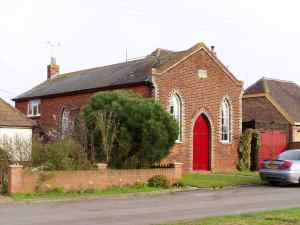 The Peculiar Peoples Chapel at Steeple where the Dedman and Rush family worshipped
Silas Rush in 1887
Silas was born in 1879 to James and Martha Rush to join his 3 yr old brother called Abiur.
In 1887 the Rush family lived in a cottage in The Street, Steeple and were a member of the Peculiar Peoples Church at Steeple.
James was an agricultural labourer in Steeple like his father, John.
In July 1887 Silas contracted measles and then suffered complications affecting his village.
Because of the medical views the Doctor was not called to treat Silas.
Local village gossip caused an enquiry which resulted in James appearing before Latchingdon Magistrates Court on 6 August 1897 before Magistrates Rev Horward and Mr G Parker May.
Dr Coombe, the local Doctor, testified that the child had measles before the onset of Opthalma which has brought total blindness to Silas. In Dr Coombes opinion medical assistance to Silas may have prevented the blindness.
James Rush said that he did not request medical assistance because he trusted in the Lord according to his word.
The Chairman said that the case was very cruel and sent Rush to prison for one month to serve as hard labour.
After James release from prison the family remained in Steeple adding a Daughter called Minnie in 1893 and a son called John in 1890.
The census of 1891 records Silas as 'nearly blind'
By 1901 Silas, now aged 20 was a carman for the miller at Mayland and by 1911 he was employed as a carman to a coal merchant and was living back at Steeple with his wife and 3 small children.
Silas died in 1938, aged 59, and is buried at Steeple Congregational Church Burial ground.
Rush was comparatively lucky in that as time went on many similar cases received much more severe sentences.
Emily Chignall in 1895
Emily Chignall who was born in 1885 to John and Maria Chignall.
John was a well known resident of tillingham who worked as an agricultural Labourer at Stowes Farm .
The family were members of the Peculiar People Church in the village.
On 31 August 1895 Emily became ill with Diphtheria and although the laying of hands took place Emily died without a Doctor being called.
The fate of John Chignall is not recorded.
to visit a page on this site about the history of the Peculiar People Church