Churches of Non C of E Religions
Eastern Essex is noted for its ancient Parish Churches of like the splendid St Mary the Virgin at Burnham on Crouch and of course historic St Peters Chapel at Bradwell on Sea but there are churches for other faith groups which may be younger but are well supported and may have featured in the lives of your ancestors.
Baptist Church, Burnham on Crouch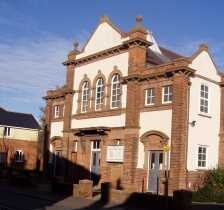 The Baptist Church was built in 1904 although there are copies of accounts of a Baptist Church in Burnham from 1673.
In 1712 a High Street public house called the Jews Well was given to the church and licences for worship. In the early 19 th century this building was demolished and it was replaced by an octagonal building unknown locally as the round church. By 1903 a larger chapel was required and the current building was erected.
St Cuthberts Roman Catholic Church, Burnham on Crouch
St Cuthberts Church was built in about 1911.
Jehovah's Witness Church, Burnham on Crouch
In 1976 local Jehovah's Witnesses bought premises in Crouch Road to become their church .
They outgrew the premises and erected a new church in Foundry lane during 1999.
URC Church, Burnham on Crouch
In 1862 a Congregational Church was erected on the current site of Barclays Bank until it was destroyed by fire in 1946. The current building was erected in 1950.
In 1984 the Congregational church merged with the Methodist Church, which had been in place since 1862, to form the URC and the Methodists closed their chapel in Albert Road.
During the 1800's many worshippers could not reach the churches and so the Marsh mission was built in the marshland near to the sea. This building fell into disuse and was moved to the rear of the URC church where it stood until recently.
URC Church, Southminster
Peculiar People Chapel, Tillingham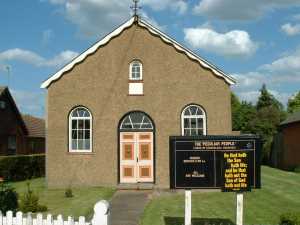 A page on this web site is devoted to the interesting story of the Peculiar people Chapel.
Click the below button to visit the pages