Royal Navy Deaths in World War One
Several local men were killed while serving in the Royal Navy during World War One attracted by posters like the one below.
Rather than leaving their memory as a line on the memorial a few details of their lives and death have been researched.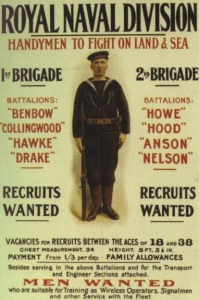 Alfred John Burt
Lived with his father Alfred Burt at Ostend, Burnham on Crouch
Born 6 December 1897
Royal Naval Volunteer Reserve
Anson Battalion
Able Seaman
Alfred joined the Army in 1916 joining the 1st Berkshire Yeomanry
He decided that the Navy seemed more attractive and transferred on 16 June 1917
After initial Naval training he was allocated to Anson Battalion serving with the BEF in France on 9 July 1917
The new life obviously proved a strain as he was receiving medical treatment in France from 30 August 1917 to 9 November 1917 and then from 15 January 1918 to 1 April 1918 was invalided home with a condition recorded as ICT feet.
This is an acronym for inflamed connective tissue a condition that occurred amongst soldiers in World War one due to the large volume of marching and then the poor/ wt conditions experience for long periods in the trenches.
On 1 April 1918 Alfred rejoined the Anson Bn on the front line at a comparatively quiet period.
On 1 June 1918 just a few months before the armistice Alfred was in the trench when the Germans began a barrage of a few shells and rifle fire.
This was a daily event causing little damage but sadly this day Alfred was hit by a bullet and suffered wounds to his buttocks and scrotum.
He was taken to a field hospital and then to the Canadian Hospital at Le Treport where he died from his wounds at the age of 21 years.
Ironically he was the only man injured in the British Trenches in that area on that day.
He is buried in the military cemetery at Le Treport
Arthur Webb
Lived with his mother at Station Road, Southminster
Born 2 October 1893
Royal Naval Volunteer Reserve
Hawke Battalion
Rank - Able Seaman
Alfred was a painter at Southminster when he enlisted on 4 June 1915
On 25 October 1915 after training he joined Hawke Battalion and took part in the Dardanelles campaign
In May 1916 Hawke Battalion sailed to Marseilles where they embarked and traveled through France to the Somme region.
In November 1916 Hawke Battalion were part of the larger Royal Naval Brigade massing to start the assault that was to become known as the battle of Ancre.
Arthur was involved in the first wave of attacks on 13 November 1916 receiving serious gun shot wounds.
He was taken to the Military Hospital at Rouen where his right arm and left leg were amputated.
Despite the care at the hospital he died on 19 November 1916.
He is buried at St Sever Cemetery, Rouen
Charles Gentry Samms
Lived with mother Mary Anne Samms at Dengie
Born 27 February 1894
Royal Marine Light Infantry
HMS Natal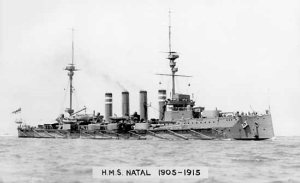 Rank - Private
Charles saw service from the start of World War One
From 20 September 1914 to 2nd October 1914 he was a member of Chatham Battalion at Dunkirk
From 3rd to 9th October 1914 he took part in the defence of Antwerp
He was then a member of the Royal Marine Brigade until he transferred to HMS Natal on 24 November 1915.
After the war in France a berth on a warship must have seemed pleasant.
HMS Natal was a powerful armoured Cruiser built in 1905.
At 3.20pm on 30 December 1915 HMS Natal was at anchor in Cromarty Firth in Scotland with the rest of the 2nd Cruiser fleet when there was a sudden series of explosions.
Within 5 minutes HMS Natal had capsized and half the ships company, about 400 men lost their lives.
the capsized hull of HMS Natal
Sadly Charles Samms was amongst the casualties.
Frederick William Carter
Lived with his parents Joseph and Emma at Limes St, Burnham on Crouch
Born in 22 July 1891
Royal Naval Volunteer Reserve
Anson Battalion
Rank - Able Seaman
Frederick enlisted in 1914 and joined the Northern Cyclists Battalion being promoted to Lance Corporal
On 16 June 1917 Frederick transferred to the Royal Naval Division where he was allocated to Anson Division.
One month later he joined Anson in France where he served in Northern France
In March 1918 Anson were in the front line near to Cambrai at the time when the Germans launched one of the last offensives of the war.
On 22 March after an attack by the Germans the Battalion became isolated and withdrew to a high line of defence near Thiepval.
The line became quieter on 23 March 1918 although there were a number of skirmishes. During one of these skirmishes Frederick was posted as missing in action.
His name appears on the memorial at Arras and on the headstone of Samuel and Eliza Stowers in St Mary's Churchyard, Burnham on Crouch.
His official naval record indicates that he is buried about 1200 metres south of Eaucourt L'Abbaye which seems to be the location that he went missing in action.