Beeleigh Abbey
Although Beeleigh Abbey is sited two miles to the west of Maldon and thus outside of the Dengie 100 area it still had an impact on this area by virtue of the gifts of land and other possessions to the Abbey.
Beeleigh Abbey was built in 1180 for the Premonstratensian Canons who were commonly known as the White Canons.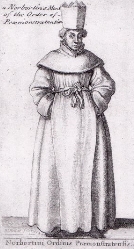 A white cannon drawn in 1661 - picture from wikimedia
White Canons resembled monks although they lived under a regime that was not as strict in terms of monastic seclusion which meant that they traveled through the community and often worked within local churches.
The order began in France but quickly became established throughout Europe with a total of 32 male houses and two female Nunneries established in England.
The Abbey prospered and grew in size and importance to the extent that in September 1289 King Edward I and Queen Eleanor visited the Abbey and celebrated mass for the soul of Hugh Fitz Otto ,the Kings Steward, who had been a benefactor of the Abbey.
In 1536 it joined Stansgate Abbey in becoming a victim of the dissolution of the monasteries at which point the Canons were dispersed and part of the building was destroyed with the remainder becoming a farmhouse.
The building that stands today is mainly the west and south west parts of the building but fortunately it includes the lovely Chapter House and Dormitory.
Beeleigh Abbey Dormitory side pictured in the early 1930's
Land owned by Beeleigh Abbey in the Dengie 100 in 1535
Named Farms
Asheldham - Moynes Farm
Burnham - Colleward in Burnham marshes
Hazeleigh - Jankenes farm
Purleigh - Firne, Jakeletts, Bennets, Doddewer and Wykemerkland
Stow Maries - Farmland demised to Thomas Badeowe
Woodham Walter - Boures farm
Unnamed small farms or land in
Cold Norton,Creeksea, Hazeleigh, Purleigh, St Lawrence, Steeple, Woodham Mortimer and Woodham Walter
| | |
| --- | --- |
| | To view a list of the Abbots of Beeleigh Abbey |
| | |
| --- | --- |
| | To view a list of the Abbots of Beeleigh Abbey |
| | To view a list of the owners of Beeleigh Abbey |
| | To view a list of the Cannons of Beeleigh Abbey between 1475 and 1500 |
Click the above logo to visit Find Who You Are which is a sister site containing hundreds of free pages of professional advice on finding your family tree