CRIME DURING THE REIGN OF JAMES 1
James 1 who was the only son of Mary Queen of Scots became King of Scotland in July 1567 and then unified Britain by becoming King of England, Scotland and Ireland in March 1603 throne following the death of Elizabeth 1.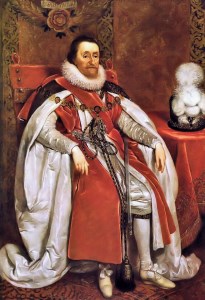 The times were comparatively turbulent although for most people there was little crime.
The below table looks at people from villages in the East Essex area who appeared before the Assize Courts at Chelmsford and Brentwood for the last years of the reign on James 1 from 1606 to 1624 .
The crimes took place in the home village of the defendant unless otherwise stated. Family historians are able to use the records to trace ancestors who were either defendants and aggrieved.
Sentencing was very harsh especially for poor illiterate people. The standard of investigation was of dubious quality and often trials especially murder too the form of murder trial and inquest and could often find the accused innocent and name a third party who was not initially accused as guilty.
Many of the criminals appeared from crime such as theft, burglary and highway robbery which are still recognisable today. A few of the reasons for appearing are more unusual to modern minds hence a brief explanation about religious offences, ecclesiastical courts and witchcraft all of which feature in the case list.
Catholic Religion
Although a Protestant James 1 was comparatively tolerant to Catholics but this changed on 5 November 1605 when Guy Fawkes made a botched attempt to blow up the Houses of Parliament in what became known at the catholic Plot.
Within a few months an enraged Parliament has passed an Act which required citizens to take an oath of allegiance that included denial of the Popes authority over the King. In some areas this included the appearance before Assises of people holding illegal catholic Services. This included several incidents in Essex especially in the western part of our area which seemed a hotbed of Catholicism.
The legal term used for this offence was recusant.
Allowed Clergy
Until 1575 the Clergy were not able to be dealt with by Civil Courts and faced Ecclesiastical courts if accused of any crime. Due to lenient sentences and different standards of proof few Clergy were punished.
There was no formal proof of membership of the Clergy and so anyone accused before a civil court could claim the right to be allowed clergy. The proof of clergy was to be able to read a passage from the bible. At this time few people could read and clergymen were drawn from the population who received a good education.
This quickly became a loophole for secular people who could read and even some criminals who could not read memorised whole psalms to give the impression that they were reading. So popular was psalm 51 that it became known as the neck verse.
On being allowed clergy the criminal appeared before an ecclasiatical court where the sentence even for serious offences would be one of penance.
In 1575 Elizabeth 1 was concerned at the number of criminals who were escaping justice and abolished the right to be referred to an ecclesiastical court. being allowed clergy was still a valuable tool as the maximum sentence allowable was one year or a whipping that was much preferable to hanging which was given for comparatively minor offences.
Thomas Banckes appeared before the assises for theft three times in this period . Once in 1610 where he was whipped, again in 1610 when he claimed Clergy but on his third appearance in 1616 his luck ran out as Clergy could only be claimed once and he was hung.
Witchcraft
Before ascending the English Throne James 1 attended a trial at North Berwick of several women accused of trying to create a storm that would drown James 1 and his wife on a recent trip to Denmark.
He became so convinced about the threat that in 1597 he wrote a book called wrote the Daemonologie which condemned witchcraft..
There were already laws in place to outlaw witchcraft but in 1604 James 1 passed a new stronger statute which contained his statement that witches were loathe to confess without torture.
This site has a page on witchcraft. To visit this page please click the below link.